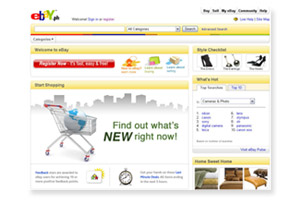 eBay Philippines is serious about growing their operations locally. They have recently relaunched with a design facelift — even got actress/singer Jolina Magdangal as one of their front pages' model. And, with the complete process offering of Paypal, the sister company, to local users, it has become even more interesting and exciting. Yesterday's mass email from Paypal said:
Express Checkout – Up to 40%* increase in conversion rate on your site. Integrate Express Checkout on your site and increase your conversion rate up to 40%. It helps your buyers save time and pay fast using information they already have securely stored with PayPal.
We now have the missing link for active trading, an online payment processing system. I wonder how local auction sites will take eBay's aggressive plans.